Lisa Iskin is a versatile guitar player and luminous singer encompassing a delicious blend of French folk, folk-rock, flat picking, and country. Her story is one not just of performance, songwriting and recording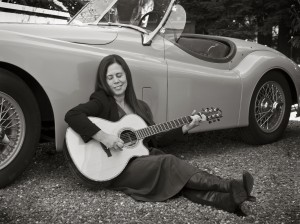 projects, but of a richly connected life growing from the heart of the California music scene into the hearts of her listeners.
Lisa got her introduction to the iconic McCabe's Guitar Shop in Santa Monica by her father, who took her to see Doc Watson when she was just eight years old. This was a turning point. By the tender age of 16, Lisa was charming her way into the music scene and making important musical connections (Jackson Browne, Joel Tepp, Rick Ruskin, Ed Carter, Bobby Kimmel, Kenny Edwards, Ren Ferguson, Maria Muldaur, Danny Elfman, to name a few) that would lay the groundwork for a musical career that spans five decades, on a winding path that has touched many along the way.
Later, she forged professional connections with major players in the Northern California music scene, such as Pee Wee Ellis, Fred Catero (CBS and Columbia Records), Larry Cragg, Nina Gerber, Bryan Adams, and Bobby McFerrin. Ellis, who notably also worked with James Brown and Van Morrison, accompanied Lisa on her recording of her 1984 song, "Every Heart," helping to turn a country theme into pop/crossover, and opening the door to new possibilities in style for her developing musical talent.
Collaboration is in many ways the key to Lisa's diverse talents and lasting charm as a performer. Through her love of community and deep respect for the many people whose lives and work have crossed with her own, she integrates a unique spirit and depth in her work, which acts as a channel for that spirit to reach the world. Listening to her, one feels a connection to this deeper world of union with others, the history, and the music that carries you away.
Lisa's music tends to your heart as a gardener tends to her flowers, reaching out to each in turn with the nutrients that sustain us.